The three pillars of a smooth journey to membership
Here at Parliament Hill, we love to help our clients to increase the size of their membership and keep them happy. In this blog, we share with you the three pillars of how to engage and attract potential members.
1. MAKE THE MEMBER JOURNEY SIMPLE
When users land on your site, their eye path starts from the upper left corner, and moves on from there, through an F-shape pattern scan of the website. According to this eye-tracking study (Laja, 2012) it would be useful to place the call to action button (i.e. Join us) around this area and create a banner that stands out from the other sections within the website: a good example comes from Nautilus.
People who are interested in your field have to be aware of how to become members when they visit your website, in as short a time possible. Even if you have very particular criteria for membership, there is nothing to lose by advertising the possibility of joining and making the process as clear and straightforward as possible, avoid creating too many sub-sections that will lead to confusion and misunderstanding.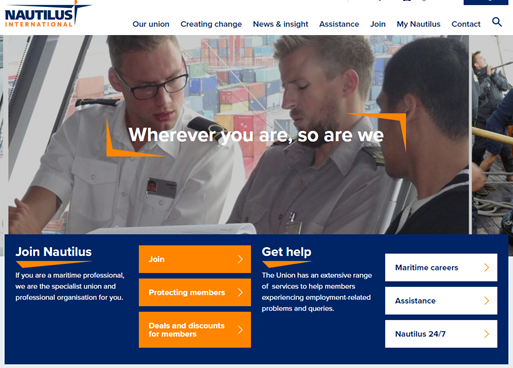 2. SHOW THE BENEFITS OF BECOMING A MEMBER IN A CLEAR AND ENGAGING WAY
Making simple changes to your website will help increase awareness amongst your users of the benefits to becoming a member. The first must-have is a directive banner which will lead users into a section which professional and personal member benefits such as discounted admission to your events and conferences, free access to learning material as well as the extra perks such as discounts and offers. Through this users will have a complete and compact overview of why they should join the organisation on one page.
One suggestion would be to mention some of the benefits on offer to members outside the login area to increase the engagement. Here an example from RSM (The Royal Society of Medicine).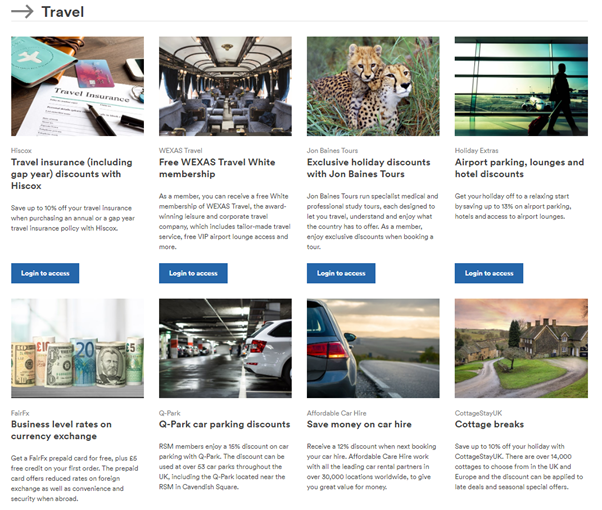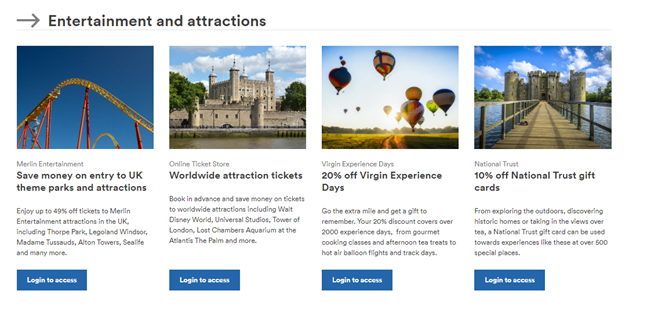 Secondly, the allure of well-known brands and concrete discounts that you can guarantee your members is sure to be a draw. Parliament Hill provides its clients with many National and Provider Price Promises, so make sure you advertise this so that potential members know they could get the best discounts from a varied range of brands (include the logos), by joining your organisation.

Another way to show the value of being a member is to include the Savings Calculator. The Savings Calculator is a great way to show the financial return on investment of become a member and how the benefits they receive could save them the equivalent to the cost of their membership.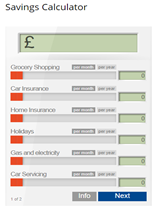 We would also recommend providing a short video, which explains all the benefits and includes some reviews from existing members would also be icing on the cake to boost the number of subscriptions.
3. INCREASE AWARENESS OF THE BENEFITS USING SOCIAL MEDIA
Nowadays, the best way to show customers what you do and how you do it, is using social media channels. Depending on the nature of your organisation, you could post content that is both informative, and that appeals directly to your members.
One of the best ways to engage members is to link your social media content with what is going on in the wider world, such as the Easter-Break, Wimbledon or summer holidays. Here the RTPI (Royal Town Planning Institute) used the Easter break to highlight a benefit that would be of interest to their members.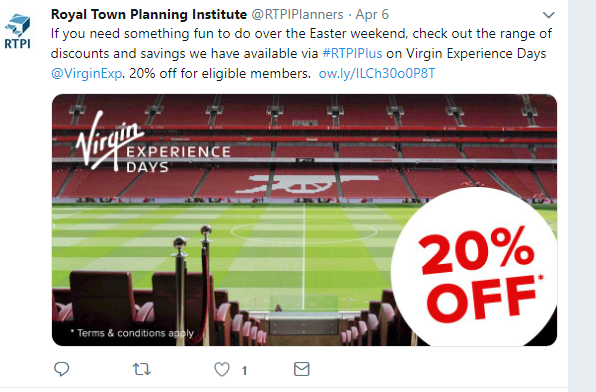 So bear in mind, while it is important to reach out to your members directly and exclusively, it is also important to showcase the fantastic benefits you offer as a way of attracting more members.